Genuine Ford Parts for Your F-150, Escape, Explorer, Bronco Sport or Ranger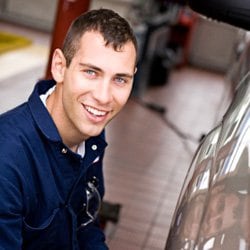 Genuine Ford Parts for Your F-150, Escape, Explorer, Bronco Sport or Ranger
When it comes to accessorizing your crossover, SUV or truck with the perfect replacement parts or new customization elements, don't trust your vehicle to just any after-market parts store. Let the parts center at Gutwein Motor Co. in Monon get you the perfect part, every time. Our in-house parts center is staffed with Ford experts who have a vast array of important replacement parts and accessories at their fingertips and can help you find exactly what you're looking for. Genuine manufacturer parts are better for your vehicle, and we'll help you find them.
Why Buy Ford Parts at Gutwein Motor Co.?
Getting the F-150, Escape, Explorer, Bronco Sport or Ranger parts made to suit your exact specifications is paramount to its performance. You wouldn't put parts in a truck that belong in a sedan, and neither will we. Our team has a large selection of Ford-approved parts for the best fit in Indiana, and you can get them simply by stopping in to see us here in Monon. When you order parts online or in our dealership, you'll see the difference.
Let Us Help You Find the Right Parts at Gutwein Motor Co.
Our parts department makes it easy to get the parts you need for your crossover, SUV or truck. The most convenient option is ordering the Ford parts you need online. However, you can also give us a call, and we can help you with ordering or any questions you might have.